KS - Buffalo Wings
Buffalo Wings 2 - The Deluxe Reprint
Against the Odds Magazine conducted a Kickstarter campaign is raise funds to reprint issue #29 with Buffalo Wings 2 inside, featuring updated rules, parts and planes. The campaign ran for a month on Kickstarter and is now closed. We've set this page up to allow people who were too busy or wary of giving Kickstarter their credit card information a second chance to get a copy now through the end of November 30th, 2020.
Check out our video below for some background on the game.
First, some important things to point out:
Some things about this page that are different from a regular Kickstarter pledge page include:
1.) This isn't a pledge page. This page is live and will charge your credit card the moment you order a copy. You won't be able to cancel your purchase.
2.) Unlike Kickstarter, you can now also use PayPal or send in your order by mail to pay for your purchase (your letter must be postmarked by 11/30).
3.) You will receive the same final Buffalo Wings 2 package that all the KS participants are getting. It will include all the Stretch Goal extras as finalized on July 31st (the end of the original Kickstarter campaign).
4.) Your copy will mail right after we ship out the Kickstarter copies.
5.) You won't get any campaign progress reports/e-mails/comments out of Kickstarter system.
Now on to the good stuff!:
The issue covers the "Winter Wars" between Finland and the USSR, sometimes independent and then as part of WW2. The title comes from a plane -- the Brewster Buffalo -- which was woefully unsuccessful when used by US and British forces, but which the Finns adapted into a very useful fighter, which they nicknamed the "Sky Pearl." (Yeah, they liked it a lot!)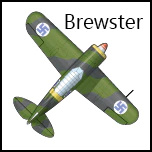 Counter art is being redone as part of the "upgrade."
The original Buffalo Wings was also popular because it served as an 'intro' game to the entire "Fighting Wings" series -- games from J.D. Webster that are among the most popular air battle board games of all time. Though presented as an 'easy intro' to the series, the cards and materials are fully compatible with the entire Fighting Wings series, so if folks want to get deeper and into more complexity, they can still use everything they get in Buffalo Wings 2.
"Is it just a reprint?"
Good question. At first we said "Yes and No," because we were thinking most of the magazine articles would be kept just like the original but there would be a number of changes to the GAME portion. On further review, our artist is laying things out somewhat differently, adding more art, making it more attractive. And yes, the rules portion is getting a big lift, with some editing to the rules to cover questions and errata plus streamlining and improvements that the designer has forged into the system as the game evolved over the years. So it's an understatement to call this a 'reprint.' It's a full upgrade!
Even better, we will be looking to include more "Aircraft Data Cards" (the handy charts which capture everything that makes one plane different from another) than in the original Issue #29, plus bringing in ways to make the bombers in the game perform as individual planes (they were rather generic in the original).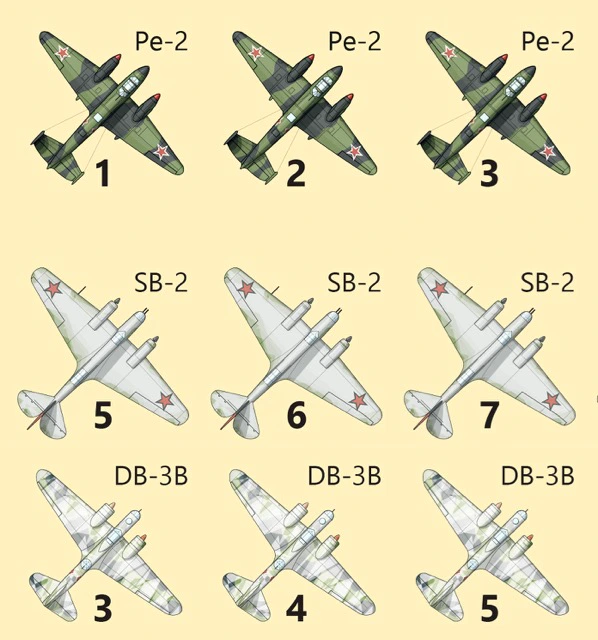 Note details, like the winter camo on the DB-3B.
We have made some improvements to the counter sheets, especially all the things that aren't airplanes. You can spot some in the art below. Tanks and artillery that aren't just "symbols." Ground terrain that looks like STUFF!

If seeing tanks and artillery 'hints' that Buffalo Wings 2 can have ground attack rules, you'd be guessing correctly! Purchasers here will get Bombing and Ground Attack rules-- and extra scenarios for them!
In other great news about the reprint, we've redone the map, bringing it up to "current standards," and in fact, matching the style used in the most recent "Fighting Wings" release, Wings of the Motherland (from Clash of Arms Games) which looks at the German/Soviet air war from 1941-1945. Our map will more than "match the style." It's going to be designed to physically match up with the Wings of the Motherland maps, offering new and larger scenario options.
Here is a slice of the new map.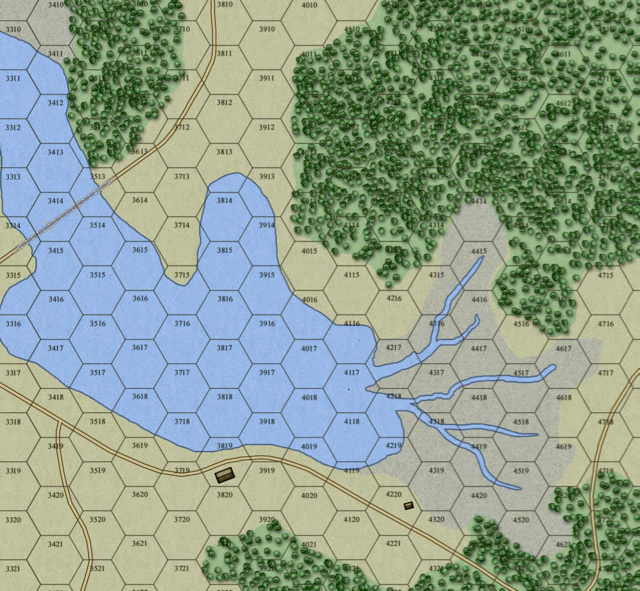 So that sums up where we're going with this. We hate that the original Buffalo Wings is out of print (copies are selling for way over $100), and, while we "reprint" it, we want to make it even better than the original. This is definitely a VALUE-ADDED project!
Buffalo Wings 2 captures a cool, unusual period in WW2 history (with great historical articles in the magazine!). It's a great intro to one of the most popular air combat games, and brings with it upgrades to rules, art, components, and more. It's not an appetizer, but we think Buffalo Wings 2 is very appetizing! Hope you agree!
Buffalo Wings 2 and Issue #29 of ATO
Maps - Two full color 22"x34" double-sided mapsheets
Counters - 280 full color 1/2" die-cut pieces
Rules length - 20 pages
Charts and tables - 16 pages
Extra Rules, Planes and Scenarios - 44 pages
Complexity - Medium
Playing time - Up to 2 hours
How challenging is it solitaire? - Good
Design - John D. Webster
Development - Lembit Tohver and Stephen Rawling
Graphic Design - David Freidrichs with Ian Wedge