The British Way of War Pack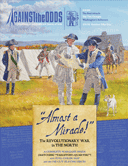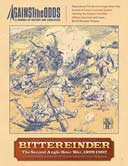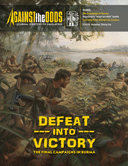 Three ziplock back issues for a great price!
The British Way of War package traces the arc of Britain's modern world empire, beginning with trying to suppress the revolt of the American Colonies, to the turn-of-the-century conflict with the Boers, up through the Burmese front in World War II.
What a great way to introduce yourself (or a friend) to ATO games, or catch up on back issues you've been meaning to get. A price like this is almost "buy 2, get one free." Don't miss it!
"Almost a Miracle"
When asked about it, years after it ended, George Washington said that the American victory was "little short of a standing miracle."
"Almost a Miracle!" uses our successful "Tarleton's Quarter!" as a game engine starting point to bring the Northern "half" of the American Revolution into play.
The map and victory conditions for "Almost a Miracle!" show players why battles took place in key areas but also lets players explore those seemingly odd tertiary campaigns, like Halifax, Fort Pitt, and Quebec.
Will the British be able to impose "the King's Peace" on the northern colonies or will the revolution survive to birth a new nation?
"Almost a Miracle!" and issue #51 of ATO:
Map - One full color 22" x 51" set of area mapsheets.
Counters - 280 full color 1/2" die-cut pieces
Rules length - 16 pages
Charts and tables - 2 pages
Complexity - Medium
Playing time - Up to 8 hours
How challenging is it solitaire? - Average
Design - David Jones
Development - Lembit Tohver
Graphic Design - Mark Mahaffey (after Craig Grando)
Bittereinder
Bittereinder is a two-player simulation of the entire 2nd Anglo-Boer War of 1899 to 1902. The British Empire was at war with the Boers, the white tribe of Africa. The war would straddle the centuries, ending on May 31, 1902. It was a bitter defeat for the Boers and a victory bereft of glory for the world's mightiest empire.
Bittereinder and issue #13 of ATO

Maps - One full color 22"x34" mapsheet
Counters - 264 full color 5/8" die-cut pieces
Rules length - 12 pages
Charts and tables - 2 pages
Complexity - Medium
Solitaire suitability - Average
Playing time - Up to 10 hours
Design - Hjalmar Gerber
Development - Paul Rohrbaugh
Graphic Design - Craig Grando
Defeat into Victory
"Defeat into Victory" sets up the 1944-45 battles in Burma. Their fortunes declining everywhere but determined to pre-empt any Allied attack, the Japanese launched an offensive of their own in May, the largest they ever launched outside of China, against the Allied positions in and around Imphal and Kohima. The battles that raged among the jungles and mountainous hillsides of the Indian and Burma frontier, and the subsequent Allied victory that followed in July, marked a fundamental and permanent shift in the war.
The Allied offensive in March 1945 was one marked by extensive planning and preparation, as well as bold and daring maneuvers that not only took the Commonwealth and Indian forces across the Irrawaddy River to Rangoon, but crushed the defending Imperial Japanese Burma Area Army.
Defeat Into Victory and issue #36 of ATO:

Map - One full color 22"x34" mapsheet
Counters - 300 full color 1/2" die-cut pieces
Rules length - 12 pages
Charts and tables - 2 pages
Complexity - Medium
Solitaire suitability - Average

Design - Paul Rohrbaugh
Development - Lembit Tohver
Graphics - Mark Mahaffey