20 - A Fatal Attraction

In the beginning, it was Churchill's idea... a way of putting the old "pre-dreadnaughts" to useful service and making a show of strength in the waters off Istanbul which would, he said, cause immediate regime-change and take Turkey out of the war. It was thought very little infantry would be needed.
In the end, when the last Allied troops evacuated, the casualty count for both sides topped half-a-million. (And Churchill lost his job.)
And yet, the big naval attack had almost succeeded. The Allies would not know until after the war ended how close they had come to achieving their breakthrough on the Dardanelles. It was the first of many "what might have been" episodes, where success was just one more push, one more aggressive movement away...in contrast to many times when failure was reinforced and repeated.
A Fatal Attraction brings this campaign of tragedy and opportunity to life. The counters represent brigades, batteries, and ships, and players have the chance to do better than their historical counterparts, while gaining a greater appreciation for the difficulties faced by both sides, including supply shortages, command/control difficulties, and random events.
With A Fatal Attraction, you'll find everything you need to understand Gallipoli except the smell and the flies.
A Fatal Attraction and issue #20 of ATO
Map - One full color 22"x34" mapsheet
Counters - 280 full color 1/2" die-cut pieces
Rules length - 11 pages
Charts and tables - 4 pages
Complexity - Medium
Playing time - Up to 6 hours
How challenging is it solitaire? - Poor
Design - Paul Rohrbaugh
Development - Rawling & Tohver
Graphic Design - Craig Grando
The Expanded Edition option below (only available directly from us) for this game also includes "An Ever So Fatal Attraction", an expansion kit for the base game with extra counters and rules for leaders, submarines, and increased land and naval support for both sides!

Like the topic, designer, or types of challenges in this game?
You may also be interested in this product: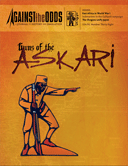 38 - Guns of the Askari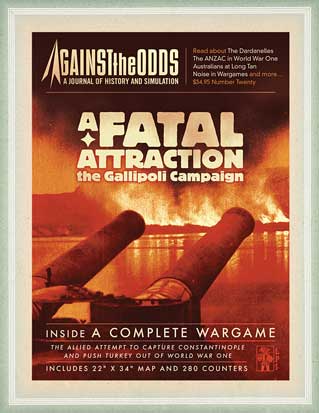 View Larger Image
See more of this game's graphics
Click here to view the contents spread below (in PDF format) for this issue of Against the Odds Magazine!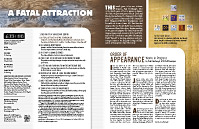 Requires Adobe Acrobat Reader version 5 or later. Free download here.
Download an updated rulebook for A Fatal Attraction (in PDF format)
Download some variants and ideas to explore more options for A Fatal Attraction (in PDF format)
Descargue el libro de reglas original en español para A Fatal Attraction (en formato PDF)
Read more about this game on Consimworld.
And, the designer of this game recommends the books below if you would like to learn even more about this campaign: