The Asian Way of War Pack
Three ziplock back issues for a great price!
Westerners have generally overlooked big events in the East-- unless someone like Genghis Khan or Tamerlane brings it to them. The only "Eastern" battle in the the Mitchell/Creasy "20 Decisive Battles that Changed the World" is Midway.
But there have been many significant wars and battles on the far side of Russia. Now, the Asian Way of War looks at three of the most intense, fought entirely between Asians.
Chronologically, the first is "Operation Ichi-Go," the massive 1944 Japanese offensive to finally destroy most Nationalist Chinese forces, thus shutting down the theater.
Then comes "Red Dragon, Blue Dragon," the decisive campaign that made China what it is today.
Finally comes "Meatgrinder," the last major action in what is now a unified Vietnam (It turned out to be a meatgrinder for both sides.)
Now, you can grab these three interesting titles at our lowest bundled price. Zip-lock versions of the games, complete with magazines, full color maps, die-cut counters, and any goodies that we conjured up since they were released.
See how the Asian Way of War makes its mark on all of history.

Operation Ichi-Go
Operation Ichi-Go ("Number One") was the largest ground offensive in Japanese history, with 500,000 troops, 800 tanks and massive logistics and artillery support. They used their tanks in armored divisions – the only time in the war they deployed such concentrations.
Ironically, Japanese armies reached the goals that they set, but US airpower prevented them from using their land route to any great extent, and US victories in the Pacific gave the US plenty of other airbases to attack the Japanese mainland.
Operation Ichi-Go and issue #52 of ATO
Map - One full color 22" x 34" hex mapsheet.
Counters - 252 full color 1/2" die-cut pieces
Rules length - 12 pages
Charts and tables - 2 pages
Complexity - Medium
Playing time - Up to 4 hours
How challenging is it solitaire? - Excellent
Design - Ty Bomba
Development - Russ Lockwood
Graphic Design - Mark Mahaffey

Red Dragon, Blue Dragon
Red Dragon, Blue Dragon brings gamers face to face with the series of battles that finally tipped the balance of power in postwar China towards a Communist victory. You will see how the salient of Xuzhou and its implications toward Nanjing and Shanghai attracted seven whole armies from the Nationalist side and larger forces from the Communists, locked into a series of battles and maneuvers that saw whole armies destroyed, one after another.
Pitting the PLA "People's Liberation Army"; the Communists ) against the GMD ("Guomindang"; the Nationalists), Red Dragon, Blue Dragon explores this critical campaign in depth, with 20km hexes, mostly corps-sized units, and turns representing one week of action. The GMD advantages include air support, rail movement, and convoys, while the PLA player benefits from pontoon bridges, guerrilla movement, and "fast marches." Both sides can be affected by random events and there are even rules for GMD units "defecting" and a Deng Xiaopeng marker and effect! Differences like these give each side a distinctive flavor — it's not just red counters against blue counters, but two worlds colliding.
Red Dragon, Blue Dragon and issue #45 of ATO
Maps - One full color 22"x34" mapsheet
Counters - Over 160 full color 9/16" die-cut pieces
Rules length - 10 pages
Charts and tables - 3 pages
Complexity - Low
Solitaire suitability - Average
Playing time - 2 to 3 hours
Design - Earl Dixon
Development - Lembit Tohver
Graphic Design - Mark Mahaffey

Meatgrinder
In 1975, two years after the last US troops left Vietnam, People's Army of Vietnam (PAVN) General Van Tien Dung launched Operation 275, a "limited" offensive designed to set up an attack on the provincial capital of Pleiko.
Rapid collapse of South Vietnamese (ARVN) forces caused a change in plan, with PAVN forces quickly taking one city after another, pausing only before an attack on Saigon itself. Based on previous performance, when three full PAVN divisions, supported by tanks and ample artillery, attacked one depleted ARVN division at Xuan Loc, Dung expected a cake walk.
What he got was a Meatgrinder instead....
Meatgrinder and issue #33 of ATO:

Map - One full color 22"x34" mapsheet
Counters - 240 full color 1/2" die-cut pieces
Rules length - 10 pages
Charts and tables - 2 pages
Complexity - Medium
Solitaire suitability - Average

Design - Perry Moore
Development - Lembit Tohver
Graphics - Mark Mahaffey
Like the topic, designer, or types of challenges in this game?
You may also be interested in this product: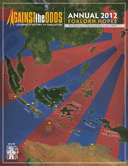 2012 Annual - Forlorn Hopes