08 - Fortress Berlin
Winner
2004 Charles S. Roberts Award for Best Magazine Wargame
"Der Führer lebt und leitet Abwehr Berlin!" ("The Führer lives and is defending Berlin!") screamed out Martin Bormann's final message on April 30th, 1945.
Fortress Berlin is a two-player tactical / operational simulation of the last major battle of World War II in Europe, the assault on Berlin.
Playing pieces represent the actual units that took part in this fight, along with some optional forces that might have become involved but did not do so.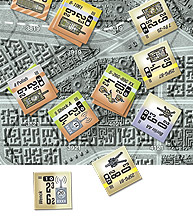 The mapboard depicts the essential portions of the city of Berlin, including both the outer suburbs and the inner fortified line perimeter.
This ranges from Treptow in the east to Spandau on the western side; and covers the area from Wedding-Pankow down to Mariendorf-Zehlendorf on the north-south axis. The final German defense zone (the "Citadel") formed by the Spree River around the center of Berlin, is clearly recognizable as well.
Map scale is approximately 500 yards (457 meters) to the hex. Each Game Turn represents around one day with ground units ranging in size from a company up to a division.

The game features complete and comprehensive solitaire and multi-player rules. Players can assume the role of Hitler's underlings and squabble over who is "truer" and more devoted to the Fuehrer's cause. Or play out the rivalry between Zhukov and Konev to be the first to capture Berlin and present the city to Stalin. Optional rules explore the impact of Steiner's III SS Pz. Korps or Wenck's Twelfth Army intervening.
Fortress Berlin and issue #8 of ATO
Map - One full color 22"x34" hex mapsheet
Counters - 480 full color 1/2" die-cut pieces
Rules length - 16 pages
Charts and tables - 4 pages
Complexity - Medium
Playing time - Up to 12 hours
How challenging is it solitaire? - Good
Design - John Prados
Development - Warren Kingsley, C. Rawling
Graphic Design - Craig Grando and Nicolas Eskubi
Like the topic, designer, or types of challenges in this game?
You may also be interested in this product: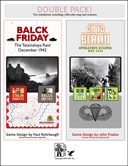 Tatsinkaya to Tempelhof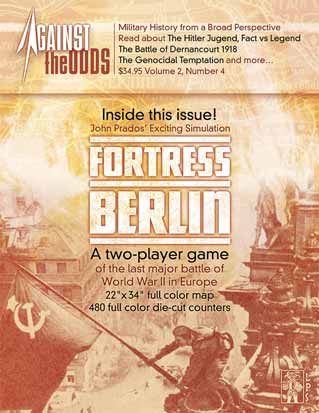 View Larger Image
See more Fortress Berlin graphics (big download).
Click here to view the contents spread below (in PDF format) for this issue of Against the Odds Magazine!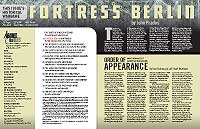 Requires Adobe Acrobat Reader version 5 or later. Free download here.
Download the Fortress Berlin rulebook (in PDF format).
Download the On to Berlin! expansion games rules (in PDF format).
Telechargez les regles francaises de Fortress Berlin par Anthony JACOB (en format PDF).
Read more about this game on Consimworld.
Read more about this game on BGG.
And, the publisher of this game recommends the books below if you would like to learn even more about this battle: