The Russian Way of War Pack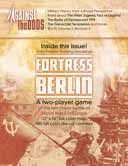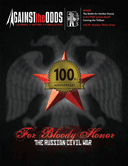 Three ziplock back issues for a great price!
The Russian Way of War covers close to 80 years of history, from the shaky start to establish the Soviet state to a battle that signaled the Russians were becoming a world power to a battle to determine what the post-Soviet Union Russia would look like.
Fortress Berlin features the Red Army poised outside Berlin ready to finish off the Nazis in 1945. For Bloody Honor examines the Russian Civil War and its most fateful change of government since the first tsars took charge, and Into a Bear Trap demonstrates how even the Russians, (now in 1995 under yet a another new form of government) found a Stalingrad-like modern day city fight can be bad for any attacker...even a "local."
What a great way to introduce yourself (or a friend) to ATO games, or catch up on back issues you've been meaning to get. A price like this is almost "buy 2, get one free."
Don't miss it!
Fortress Berlin
Fortress Berlin is a two-player tactical / operational simulation of the last major battle of World War II in Europe, the Soviet assault on Berlin. Each Game Turn represents around one day.
Playing pieces represent the actual units that took part in this fight with ground units ranging in size from a company up to a division, along with some optional forces that might have become involved but did not do so.
The mapboard depicts the essential portions of the city of Berlin, including both the outer suburbs and the inner fortified line perimeter. This ranges from Treptow in the east to Spandau on the western side; and covers the area from Wedding-Pankow down to Mariendorf-Zehlendorf on the north-south axis. The final German defense zone (the "Citadel") formed by the Spree River around the center of Berlin, is clearly recognizable as well. Map scale is approximately 500 yards (457 meters) to the hex.
Fortress Berlin and issue #8 of ATO:
Map - One full color 22"x34" hex mapsheet
Counters - 480 full color 1/2" die-cut pieces
Rules length - 16 pages
Charts and tables - 4 pages
Complexity - Medium
Playing time - Up to 12 hours
How challenging is it solitaire? - Good
Design - John Prados
Development - Warren Kingsley, C. Rawling
Graphic Design - Craig Grando and Nicolas Eskubi
For Bloody Honor
Explore the tangled facets of the Russian Civil War in the 1920s, with the historical situation exemplified by a game that handles two to four players…with up to three of them commanding the "White" Russian factions! (In multi-player games, if the Reds are defeated, the game isn't over yet!) For Bloody Honor: Civil War Russkaya captures the interactions of political influence, railways, foreign intervention, and the discord among the White factions that gave the Bolsheviks their best chance to win in a battle against — as it seemed to them — their internal enemies and the whole Western Alliance. (Yes, there were British, French, Canadian, Australian, Indian, Japanese, and even U.S. troops fighting in Russia as late as 1920…and even later for the Japanese).
For Bloody Honor and issue #37 of ATO:
Map - One full color 22"x34" mapsheet
Counters - 240 full color 1/2" die-cut pieces
Rules length - 12 pages
Charts and tables - 2 pages
Complexity - Medium
Solitaire suitability - Average

Design - Mark Woloshen
Development - Lembit Tohver
Graphics - Mark Mahaffey
Into a Bear Trap
On New Years Day, 1995 the Russians planned to subdue the city of Grozny with a massive show of force to intimidate its populace into submission. This approach had worked in 1991, and Moscow saw no reason why a repeat performance would not again suffice. Massive artillery and air support were not thought essential, as the long columns of tanks and their two battalions of mechanized infantry support were deemed sufficient to cower any who chose to witness. Yet awaiting them were two battalions of Chechen resistance fighters, well-armed with RPGs and mortars and backed by snipers, flitting among the sewers and rooftops. A battle for the city was set!
Into a Bear Trap and issue #10 of ATO
Maps - One full color 22"x34" mapsheet
Counters - 280 full color 1/2" die-cut pieces
Rules length - 10 pages
Charts and tables - 2 pages
Complexity - Medium
Solitaire suitability - Average
Playing time - Up to 3 hours

Design - Perry Moore
Development - Paul Rohrbaugh
Graphic Design - Craig Grando