54 - Monty's D-Day
British General Sir Miles Christopher Dempsey, GBE, KCB, DSO, MC, served on both world wars and with considerable competence as brigade, corps, and then army commander in the European theater. Liked and respected, he managed to get along with Montgomery and was highly regarded by him. In fact, it was DEMPSEY in command of the three Anglo-Canadian beaches at Normandy. Technically, all FIVE of the Normandy beaches were "Montgomery's," since he was the commander of the entire army group, with Omar Bradley commanding the American contingents on 2 beaches and Miles Dempsey commanding the three Anglo-Canadian beaches. But can anyone imagine calling this game "Dempsey's D-Day?"

Monty's D-Day was first published in 1985 and well received, but not widely distributed due to a production error that limited the number of salable copies. Four decades later, designer John Prados smoothed and polished the system, added solo rules, and ATO published Bradley's D-Day as Campaign Study #3. Of course, everyone would like Monty's D-Day to get a similar upgrade. The wild blue yonder hope would be that the two games could combine.

Now it's happening.

The companion game to Bradley's D-Day, Monty's D-Day will complete the Normandy Invasion vision by adding the D-Day assault frontage that was targeted by the British Commonwealth forces under Miles Dempsey which -- likely -- got much more of overall commander General Bernard L. Montgomery's attention. Most certainly, the objectives for the Anglo-Canadian beaches sound like Montgomery talking. The city of Caen, nine miles inland, was targeted for capture on D-Day itself. It actually fell in late July, and only after the city had been leveled by bombing. Was it a "city too far?"

But back to the game.

Monty's D-Day will bring the design fully in-sync and up to the standards set by Bradley's D-Day, including rules for parachute and amphibious landings and solitaire rules, plus new German alternative responses. And the same wonderful Mark Mahaffey graphics.

And, Monty's D-Day will link to Bradley's D-Day to permit the player to investigate the possibilities of the full panoply of the D-Day invasion, but works as a stand-alone game on the D-Day landings and including a campaign format.

Monty's D-Day and issue #54 of ATO:

Map - One full color 22" x 34" mapsheet
Counters - 280+ full color die-cut playing pieces
Rules length - 14 pages
Charts and tables - 2 pages
Complexity - Medium
Playing time - Up to 4 hours for the scenarios, 12 to 15 hours for the full campaign game
How challenging is it solitaire? - Average

Design - John Prados
Development - Lembit Tohver
Graphic Design - Mark Mahaffey

Like the topic, designer, or types of challenges in this game?
You may also be interested in this product:

Campaign Study #3 - Bradley's D-Day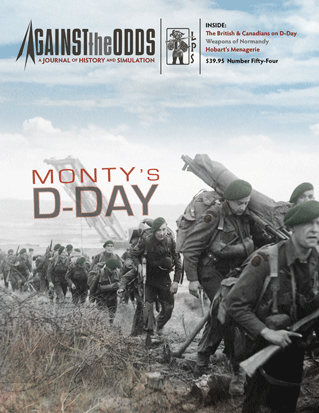 View Larger Image
Read more about this game on Consimworld.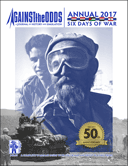 Six Days of War, designed by Paul Rohrbaugh, examines the event of 50 years ago where Israel launched pre-emptive attacks against the neighboring Arab countries that had vowed to destroy her… and won. It changed everything. And yet, it also established a kind of stasis in which little seems to have changed in those subsequent 50 years. How can that be?

It was a war fought with a mixture of weapon types that ranged from the very latest jets to leftover WW2 equipment… yet reached a decisive conclusion in less than one week. With today's "little wars" that drag on year after year, the idea of a real conclusion in just a week—with a declared winner and losers—staggers the imagination.

Six Days of War comes with 180 full color, die cut counters representing Israeli and the various Arab states involved in the fighting, with a 22" x 34" color map divided into THREE distinctly different battlefield areas, covering the Sinai Peninsula, the West Bank, and Galilee/Golan. Ground units are mostly brigades and regiments while air units (with extensive coverage of the many plane types) represent 24 to 36 planes. Each full game turn equals one day, with 10 turns as the maximum possible time.

See more…
Sign up for yours today when you subscribe, or with your next re-subscription.