The Japanese Way of War Pack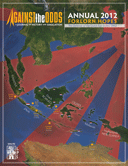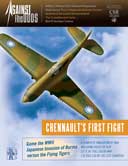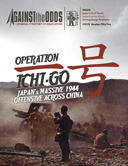 Three ziplock ATO back issues for a great price!
Three ziplock back issues for a great price!
In war's desperate times, it's not unusual for commanders to exhort their troops to fight to "the last man" or "the last bullet."
The times when this actually happens are few and far between...
...except with the Japanese "way of war." For the Japanese soldier, these kinds of orders were the rule, not the exception.
Is it philosophy or tactical mind-set? Or both? Now you can take a closer look, with three distinctly different WWII situations, pitching the Japanese against a variety of opponents, with a great "package deal" that is almost "buy two, get one free." A great way to pick up back issues you've been meaning to get, and also great as a gift to introduce a friend to ATO.
Forlorn Hopes
Most Americans can easily name Pearl Harbor as the most successful Japanese attack of the war. But what campaign truly represents the "high tide" of the Japanese Empire?....
That would be their successful conquest of the Dutch East Indies, one of their most strategically vital targets for the oil and rubber it could provide.
The Allies are spread thin and facing multiple routes by which the enemy can attack. They know the maxim that "those who defend everything defend nothing" but deciding what NOT to hold is difficult. You must make the Japanese pay for every gain...
The Japanese face an enemy already in control of much of the battlefield and fighting with their backs to the wall. They have a schedule crunch and must weigh to benefits of using high cost assets to gain objectives. The cost of success at too high a price is long term failure (and who will tell the Emperor?).
Forlorn Hopes and the 2012 ATO Annual
Maps - One full color 22"x34" mapsheet
Counters - 288 full color die-cut 5/8" pieces
Rules length - 16 pages
Charts and tables - 4 pages
Complexity - Medium
Solitaire suitability - Low
Playing time - 2 to 10 hours depending on the scenario
Design - Paul Rohrbaugh
Development - Lembit Tohver
Graphic Design - Mark Mahaffey
Chennault's First Fight
The sudden attack at Pearl Harbor on December 7th, the devastating air raids in the Philippines the next day, as well as the loss of Great Britain's battleships Repulse and Price of Wales revealed Allied forces incapable of resistance to the Japanese onslaught.
Only in China were there Americans ready and able to fight. Here, a small group of mercenary airmen and ground crew, desperately outnumbered, but led by Claire Chennault, a man who had been vilified while in the US Army Air Force, met with success in the opening weeks of the war. Their legend, that of the Flying Tigers, still lives on today.
Chennault's First Fight and issue #12 of ATO
Maps - One full color 22"x34" mapsheet
Counters - 176 full color 5/8" die-cut pieces
Rules length - 14 pages
Charts and tables - 2 pages
Complexity - Medium
Solitaire suitability - Average
Playing time - Up to 7 hours
Design - Paul Rohrbaugh
Development - Hjalmar Gerber
Graphic Design - Craig Grando
Operation Ichi-Go
In mid-1944, despite their rapidly deteriorating position, the Japanese launched a massive offensive in China. They had three objectives:
• Open a land and rail route across China to their southern conquests in Indochina and the Dutch East Indies (and bypass the US submarine blockade along the Chinese seacoast), and;
• Eliminate all the US bomber bases in China from which B-29s were targeting the home islands, and;
• At a minimum, severely degrade Nationalist Chinese capabilities and best case, maybe even knock the Nationalists out of the war.
Operation Ichi-Go ("Number One") was the largest ground offensive in Japanese history, with 500,000 troops, 800 tanks and massive logistics and artillery support. They used their tanks in armored divisions – the only time in the war they deployed such concentrations.
Ironically, Japanese armies reached the goals that they set, but US airpower prevented them from using their land route to any great extent, and US victories in the Pacific gave the US plenty of other airbases to attack the Japanese mainland.
Operation Ichi-Go and issue #52 of ATO
Ichi-Go and issue #52 of ATO:
Map - One full color 22" x 34" hex mapsheet.
Counters - 252 full color 1/2" die-cut pieces
Rules length - 12 pages
Charts and tables - 2 pages
Complexity - Medium
Playing time - Up to 4 hours
How challenging is it solitaire? - Excellent
Design - Ty Bomba
Development - Russ Lockwood
Graphic Design - Mark Mahaffey